WE INSTRUCT INDIVIDUAL SESSIONS BASED ON OUR CLIENTS' COMMUNICATIVE NEEDS - FOLLOW US ON SOCIAL MEDIA @ENGLISHALACARTE - WE ARE ENGLISH A LA CARTE, THE PERFECT MENU FOR YOUR ENGLISH APPETITE -
TRANSITIONAL BILINGUAL EDUCATION PROGRAM
The Transitional Bilingual Education Program (TBEP) is carefully designed to allow our students to strengthen their knowledge of the English language in areas such as Communication, Grammar, Vocabulary, Literacy, Mathematics, and Social Studies. Each session is personalized and instructed individually (one-on-one) according to the age and communication level of the learner.

60-Minute Sessions
One-on-One Sessions
4 to 20 Weeks

1 to 5 Hours/Week
Curriculum Oriented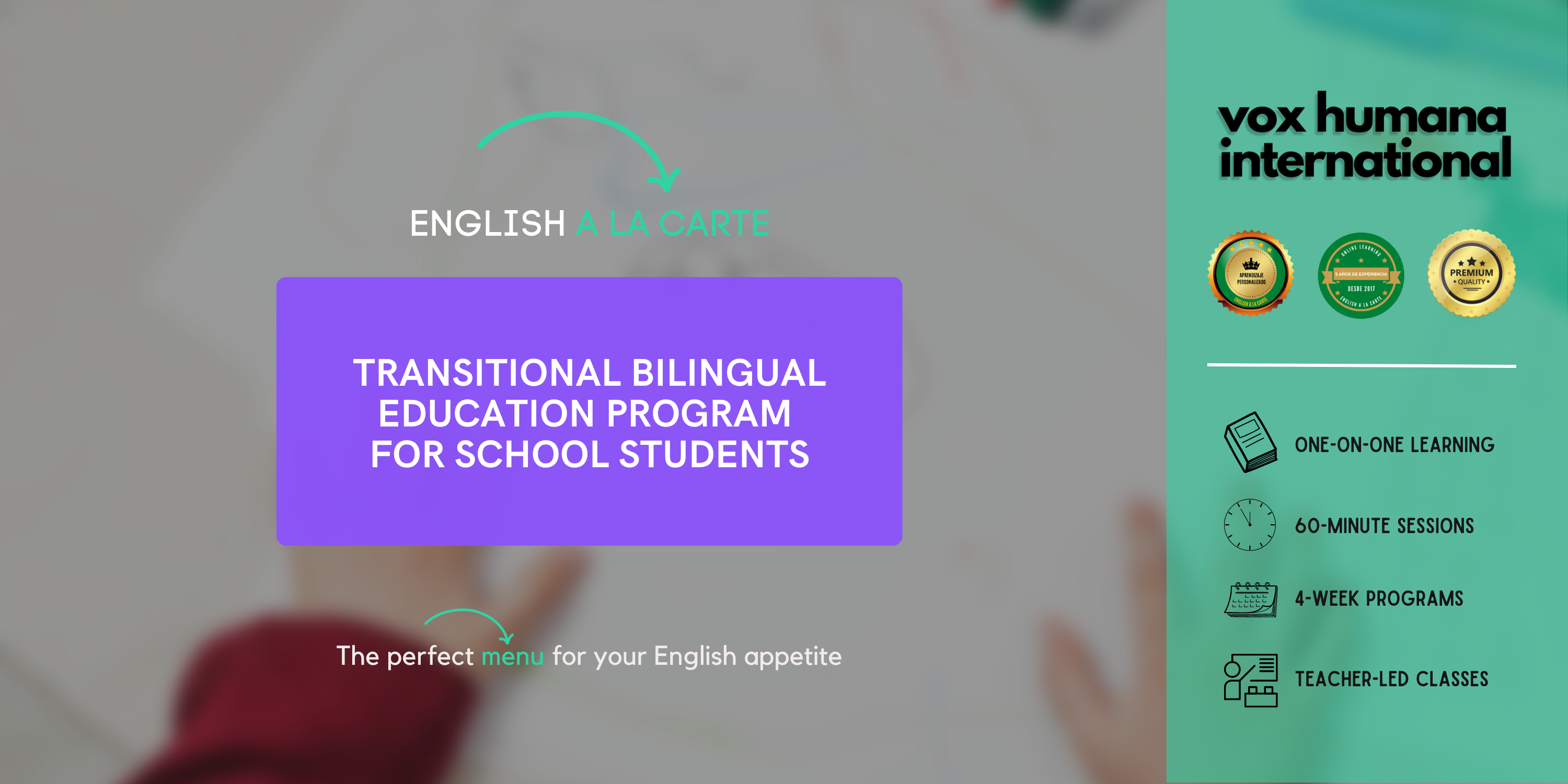 Our modules follow a curriculum-oriented program that allows students to better familiarize themselves with the necessary contents to be studied in English in the bilingual or international school they are planning to go. The learning process is student-centered and it will be focused on pronunciation, communication, and structure.
Why this program?
Each session is designed based on the student's level and communicative needs. Our transitioning program aims at presenting, practicing, and producing the target language that is commonly used in the English classroom. Session contents are planned according to the specific curriculum required by the school.


MATERIAL ORGANIZATION ON ONEDRIVE

BEFORE THE SESSION

This folder contains the audio-visual information to be used during the session.

DURING THE SESSION

This folder will contain the live session that has been recorded.
This folder will contain exercises, homework, and further activities.
CURRICULUM-ORIENTED PROGRAM: 1 SESSION PER WEEK

60-MINUTE SESSIONS | 4 SESSIONS PER MODULE | 5 MODULES PER LEVEL | 20 HOURS OF INSTRUCTION PER LEVEL
4 Live Sessions
(4 Weeks)
US$ 80
US$ 20.00 per session
COP$ 400.000
COP$ 100.000 per session
8 Live Sessions
(8 Weeks)
US$ 160
US$ 152
US$ 19.00 per session
COP$ 800.000
COP$ 760.000
COP$ 95.000 per session
12 Live Sessions
(12 Weeks)
US$ 240
US$ 216
US$ 18.00 per session
COP$ 1.200.000
COP$ 1.080.000
COP$ 90.000 per session
16 Live Sessions
(16 Weeks)
US$ 320
US$ 272
US$ 17.00 per session
COP$ 1.600.000
COP$ 1.360.000
COP$ 85.000 per session
20 Live Sessions
(20 Weeks)
US$ 400
US$ 320
US$ 16.00 per session

COP$ 2.000.000
COP$ 1.600.000
COP$ 80.000 per session

CURRICULUM-ORIENTED PROGRAM: 2 SESSIONS PER WEEK

60-MINUTE SESSIONS | 8 SESSIONS PER MODULE | 5 MODULES PER LEVEL | 40 HOURS OF INSTRUCTION PER LEVEL
8 Live Sessions
(4 Weeks)
US$ 160
US$ 152
US$ 19.00 per session
US$ 800.000
COP$ 760.000
COP$ 95.000 per session
16 Live Sessions
(8 Weeks)
US$ 320
US$ 288
US$ 18.00 per session
COP$ 1.600.000
COP$ 1.440.000
COP$ 90.000 per session
24 Live Sessions
(12 Weeks)
US$ 480
US$ 408
US$ 17.00 per session
COP$ 2.400.000
COP$ 2.040.000
COP$ 85.000 per session
32 Live Sessions
(16 Weeks)
US$ 640
US$ 512
US$ 16.00 per session
COP$ 3.200.000
COP$ 2.560.000
COP$ 80.000 per session
40 Live Sessions
(20 Weeks)
US$ 800
US$ 600
US$ 15.00 per session
COP$ 4.000.000
COP$ 3.000.000
COP$ 75.000 per session
CURRICULUM-ORIENTED PROGRAM: 3 SESSIONS PER WEEK

60-MINUTE SESSIONS | 12 SESSIONS PER MODULE | 5 MODULES PER LEVEL | 60 HOURS OF INSTRUCTION PER LEVEL
12 Live Sessions
(4 Semanas)
US$ 240
US$ 216
US$ 18.00 per session
US$ 1.200.000
COP$ 1.080.000
COP$ 90.000 per session
24 Live Sessions
(8 Semanas)
US$ 480
US$ 408
US$ 17.00 per session
US$ 2.400.000
COP$ 2.040.000
COP$ 85.000 per session
36 Live Sessions
(12 Semanas)
US$ 720
US$ 576
US$ 16.00 per session
US$ 3.600.000
COP$ 2.880.000
COP$ 80.000 per session
48 Live Sessions
(16 Semanas)
US$ 960
US$ 720
US$ 15.00 per session
US$ 4.800.000
COP$ 3.600.000
COP$ 75.000 per session
60 Live Sessions
(20 Semanas)
US$ 1200
US$ 840
US$ 14.00 per session
US$ 6.000.000
COP$ 4.200.000
COP$ 70.000 per session
CURRICULUM-ORIENTED PROGRAM: 5 SESSIONS PER WEEK

60-MINUTE SESSIONS | 20 SESSIONS PER MODULE | 5 MODULES PER LEVEL | 100 HOURS OF INSTRUCTION PER LEVEL
20 Live Sessions
(4 Weeks)
US$ 400
US$ 340
US$ 17.00 per session
US$ 2.000.000
COP$ 1.700.000
COP$ 85.000 per session
40 Live Sessions
(8 Weeks)
US$ 800
US$ 640
US$ 16.00 per session
US$ 4.000.000
COP$ 3.200.000
COP$ 80.000 per session
60 Live Sessions
(12 Weeks)
US$ 1200
US$ 900
US$ 15.00 per session
US$ 6.000.000
COP$ 4.500.000
COP$ 75.000 per session
80 Live Sessions
(16 Weeks)
US$ 1600
US$ 1120
US$ 14.00 per session
US$ 8.000.000
COP$ 5.600.000
COP$ 70.000 per session
100 Live Sessions
(20 Weeks)
US$ 2000
US$ 1300
US$ 13.00 per session
US$ 10.000.000
COP$ 6.500.000
COP$ 65.000 per session
We have prepared students to enter these schools in Colombia
We specialize in one-on-one instruction


Contact us

for a free interview and program orientation
Corporación Vox Humana Internacional C.A. J-411073180 - All Rights Reserved 2017 - 2023